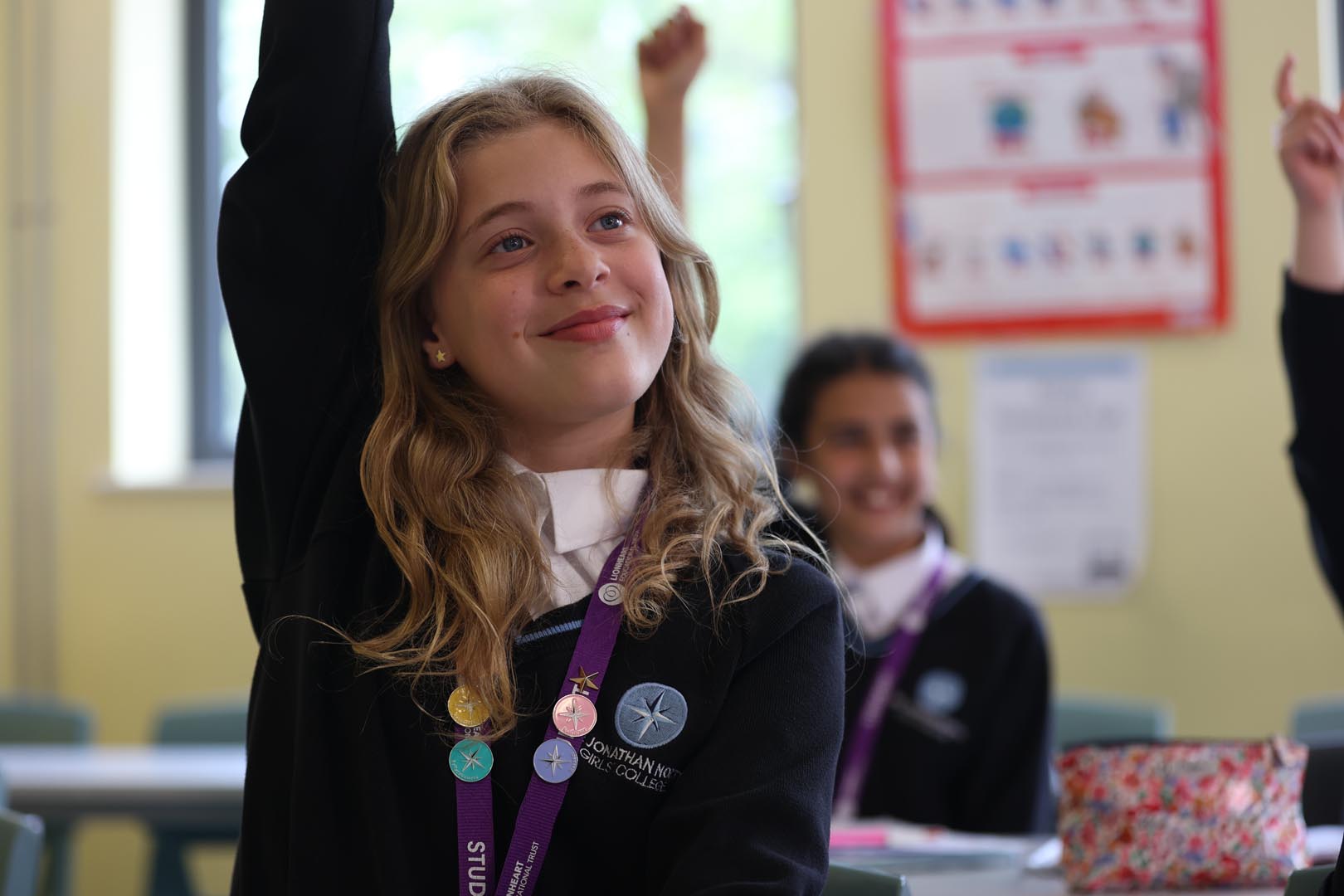 Vision and Values
At Sir Jonathan North Girls' College our simple aim is to create 'good people'.  This means that our students will demonstrate our values of Resourcefulness, Resilience, Respect and Reflectiveness (known as the 4Rs). The development of these character strengths is interwoven through our academic curriculum and holistic opportunities and is supported by a wider range of qualities (see below). Together these provide a skill set we encourage and support our students to develop throughout their journey with us, enabling them to thrive as they take on new challenges within the college and beyond. 
| | | | |
| --- | --- | --- | --- |
| Resourcefulness | Resilience | Respect | Reflectiveness |
| Curiosity | Determination | Kindness | Self-awareness |
| Reasoning | Optimism | Empathy | Listening |
| Independence | Perseverance | Communication | Problem-solving |
| Confidence | Self-control | Gratitude | Questioning |
| Creativity | Enthusiasm | Teamwork | Improving |
We are incredibly excited about the prospect of seeing young people grow during their time at Sir Jonathan North and want to work closely in partnership with parents/carers and their children.

Our Pledge 
SUCCESSFUL
Our high-quality teaching and tutoring gives students every opportunity to be successful both academically and personally. We have a strong track record in ensuring our students develop key skills for life and are able to talk, write, read well and be numerically fluent.
We seek to ensure our students know the necessary steps on this journey, providing comprehensive guidance on appropriate courses and apprenticeships which feed into the career path they wish to follow.

JOURNEY
We offer a 5-year planned curriculum for academic and holistic development through which students receive high quality feedback and are taught strategies to make learning stick. We build in opportunities for students to develop character strengths embodied in our values, the 4Rs, so your child becomes a responsible citizen who will make a positive contribution to society.
We develop students' cultural capital through a wide range of extra-curricular opportunities too, including trips, clubs, charity events, residential trips and visiting speakers which allow students to learn outside of the classroom.

NURTURED
We ensure that students feel safe, happy and valued, so that they can become successful, independent learners who enjoy learning, make excellent progress and fulfil their holistic potential, regardless of their background.
We provide a tutoring system and pastoral structure consisting of well-trained and caring staff who will know students individually and support them through their journey.
We praise and reward effort and achievement of individual students.

GROWTH
We take every opportunity to allow our students to grow and develop over their five years with us through our pastoral and academic curriculums. The skills and qualities gained enable our young people to succeed academically as well as socially, spiritually, morally and culturally.

CHALLENGED
Students are challenged to be the best versions of themselves so they leave us as strong, adaptable young people who are able to embrace life's challenges.
We maintain a consistent dialogue with parents/carers ensuring that we work in partnership to allow your child to flourish.