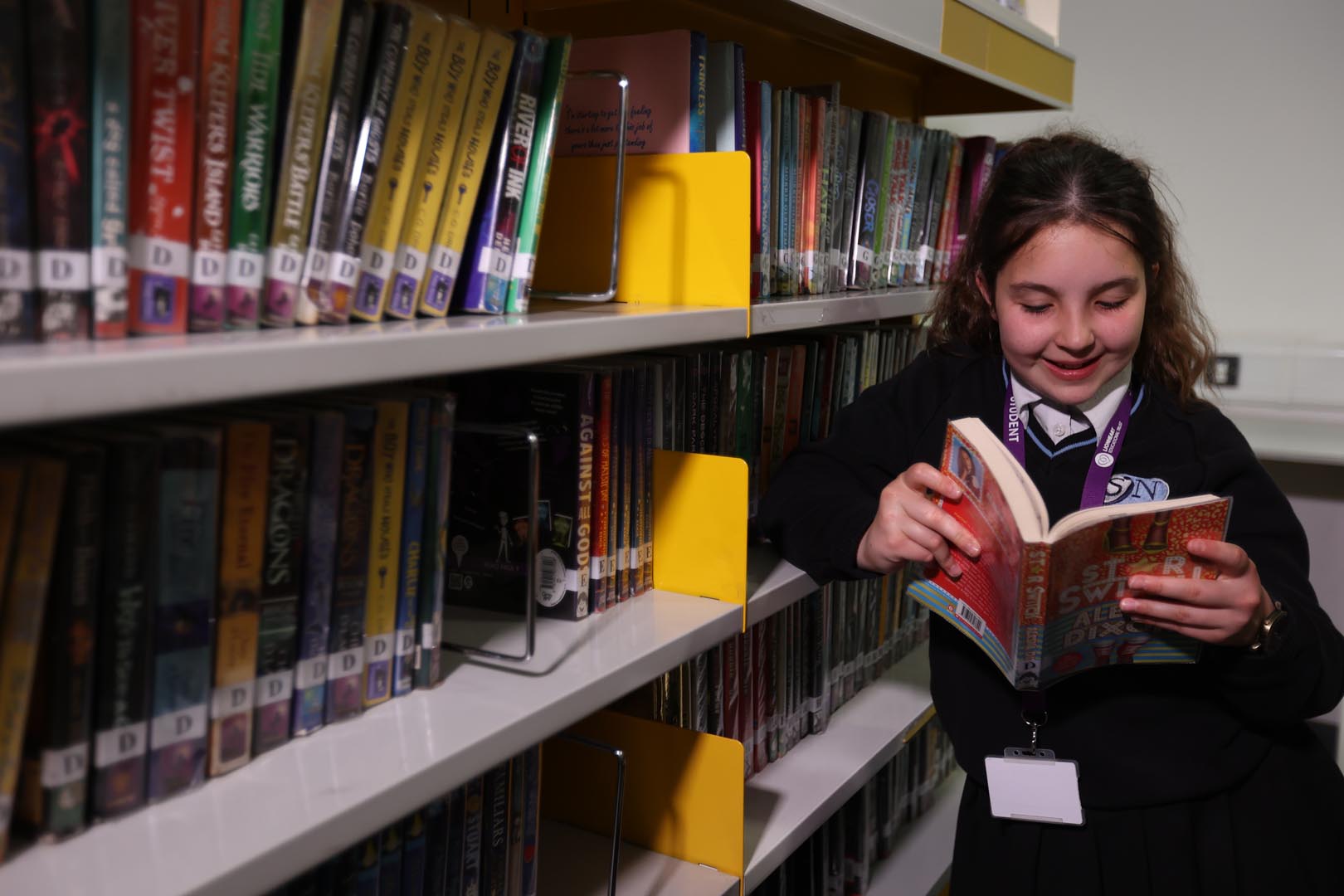 Library
Research consistently points to the fact that students who read for pleasure get better outcomes at school. The LRC helps to create a culture where reading for pleasure is encouraged and celebrated more widely.
As well as providing a wide range of the most up-to-date literature, along with lots of classics, the LRC is keen to offer enrichment opportunities for students to showcase their talents and develop new ones. Each term, the LRC runs a range of competitions and activities to coincide with national events for example World Book Day, Harry Potter Night, Black History Month, International Women's Day. Science Engineering Week and Religious festivals. 
The library and the Information centre at the school encourages students to read for pleasure to inculcate a reading culture in them whatever their socioeconomic status and cultural background. Reading is essential in a globalised, techno-digital world where students are obsessed with electronic media which impacts their educational progress or growth. We know that reading impacts a student's ability to access the various subjects across the curriculum, and, so Reading for Pleasure is supported via the library in close collaboration with the English teams and other curriculum teams by the way of
 English library lessons once a week for all year 7's
 A free book to keep chosen by the student from BookBuzz initiative to kick start their Reading for Pleasure journey which is offered to all new Year 7s.
 Following Reading Challenges to provide access to variety of authors and genres. So, we participate and follow
 BookBuzz initiated by BookTrust
 Creative Learning Services Reading Challenge
 Lionheart 'Literary Canon' Reading Challenge
 Reading Rampage, Leicester
 Readathon
 What It Takes, Leicester
 Read for Good, Leicester
 Displays
 Enrichment activities linked to a book or an event
 Group Reading collections
 Graphic Novel collections
 Authors, poets, or other visitors, to enrich student experiences of culture, life and global challenges outside of the school environment.
We also encourage students to review what they are reading in any creative format they like such as posters, written reviews, reviews in graphic pictures or making book trailers, for which they can get achievement points and prizes. At the end of the academic year, between June and July, we celebrate Reading for Pleasure with students who have participated in various challenges with a pizza party in the library.
Student's book trailers can be viewed on the YouTube school channel at the link below.
https://www.youtube.com/@sjncschool1078

Learning Resource Centre General Information
opening times 
The Library is open from 8:15am to 3:30pm Monday to Friday, term time.

Borrowing:
Years 7 – 9 are allowed to borrow
1 Fiction book
1 Non-fiction book
Year 10 – 11
2 Fiction books
1 Non-fiction book
Students are allowed to borrow resources for 2 weeks. Books and resources can be returned directly to the library or via one of the Drop Book boxes located in Main Reception, M Block, Z Block – D Block or the Dining Hall.

Overdue Procedure
When books are overdue, parents will receive a text or notification encouraging them to remind their daughter to return the items she has borrowed. Students who fail to return items on time will also be spoken to by a senior member of staff:
Pastoral Team (tutor, APL, PL). At 21 days students will start getting behaviour points, up to 3 and a detention.
The library uses MLS (Micro Library Management System) to collate all resources and loans. The catalogue on MLS lists all the resources which is searchable by various approaches e.g. author, keyword, title etc.
If students want to know about their own loans, check due dates, write reviews or browse what there is in the school library, then they can login using the link below.
http://u020575.microlibrarian.net/?ad=true
Login in using their school email e.g. 2022BWOODS@sirjonathannorth.org.uk
Password is the student date of birth without any spaces or punctuation between the digits
e.g. if born on 6th march 2019, password would be 06032019