Welcome to Year 7
We're so excited that you'll be joining Sir Jonathan North later this year as one of our new Year 7s; here you will find all the information you will need. 
A welcome from Mrs Angus, our Principal.
We're part of the Lionheart Educational Trust, a family of 11 schools around Leicestershire and Kath Kelly, the CEO, would like to welcome you to the Lionheart Family too.
Mrs Greaves is the Vice Principal for Holistic Development. She works hard to make sure your transition from your primary school to Sir Jonathan North is a smooth one.

Hear from our current students
Our greatest ambassadors are our students. Here are three of our students telling you about life and learning at our school in Year 7. Have a listen to what they have to say about Sir Jonathan North; we think you'll be reassured and inspired.
You can listen to more of our student testimonies here.
Overall, we think this video sums up life at Sir Jonathan North perfectly.

Your timetable
Here's an example of a typical Year 7 timetable. We have a 2 week timetable at Sir Jonathan North – Week A and Week B. Each day will be split into 5 lessons, with a morning break and lunchtime.
Week A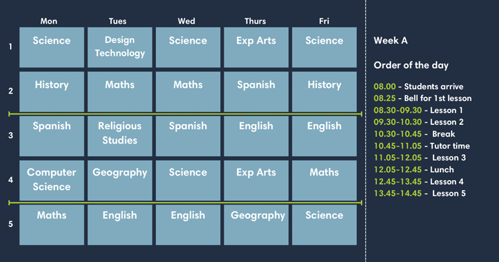 Week B


Your uniform
At Sir Jonathan North we believe a smart, business-like uniform helps create a sense of unity and pride in the school. A coloured lanyard is also part of the uniform, with each year group having their own colour.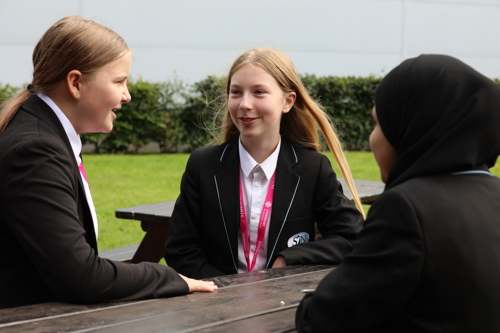 Our uniform consists of a black blazer and / or jumper with the school logo on it; a white shirt or blouse with a collar; a black pleated knee length skirt, a black modesty skirt or business style black trousers. If you wear a headscarf, it should be plain black or white.
Uniform is ordered through Schoolwear Solutions and you can find more information on our uniform here.

Inclusion
SEND
We are committed to helping you fulfil your potential. Our Skills for Learning Team work hard to assess students' needs and identify any additional support which may be required. More information can be found here.
EAL
At Sir Jonathan North College we welcome students from all over the world and currently have over 54 languages spoken.  We recognise and celebrate the richness brought by this diversity.  We work hard to eliminate all barriers to learning and this includes ensuring that students for whom English is not their first language are given the same opportunities to succeed and participate. 

Transport
If you would like to find out more about getting to us, please find our transport information here. Please note that if you choose to drive your child to and from school, the staff and visitor car park or school drive should not be used for dropping off, collecting or turning your vehicle around. 

Getting secondary school ready
Here are our top tips for getting 'Secondary School Ready' so you're ready and raring to go. See you soon!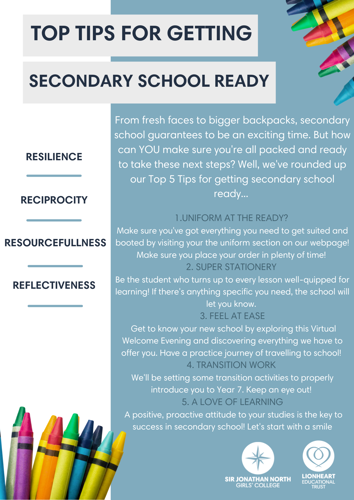 If you have any questions, please email us at yr6@sirjonathannorth.org.uk.